ENGLISH Online  (Three diferent levels)
ENGLISH COURSE. LINGUAS NET
  This is an interesting online course to improve Listening and Speaking skills. (You can learn Portuguese, Romanian and Spanish too)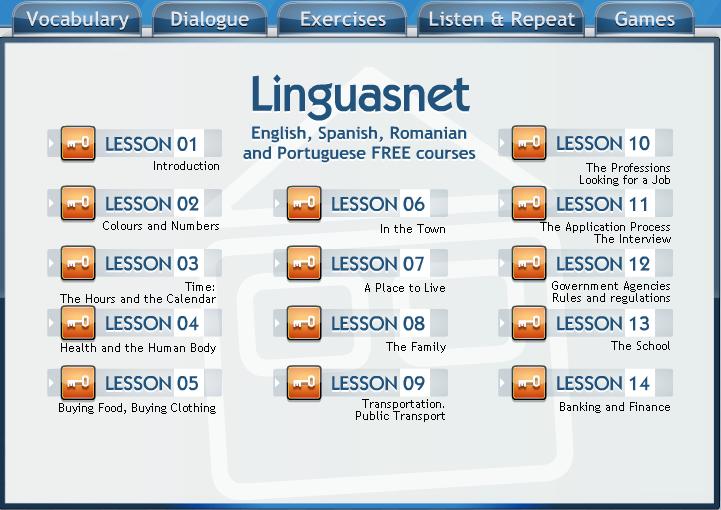 ACTIVITIES (OXFORD) Flash activities
10 ENGLISH RESOURCES. THE BEST ENGLISH WEBS  (Vocabulary, grammar, readings, stories, tales, songs…)
ACTIVITIES, GAMES, SONGS, GRAMMAR..
BBC – RESOURCES. British Council
ENCHANTED ENGLISH LEARNING
Enchanted Learning produces children's educational web sites and games which are designed to capture the imagination while maximizing creativity, learning, and enjoyment.
             Children need the clearest, simplest computer interface, and our material is created so that the navigation and controls are intuitive. Our mission is to produce the best educational material, emphasizing creativity and the pure enjoyment of learning.
ENGLISH Online  (Three diferent levels) Ahora puedes estudiar inglés gratis desde Internet con este completo curso totalmente gratuito organizado en varios niveles. Contiene: gramática inglesa, ejercicios, listening, vocabulario, conjugador de verbos en inglés, diccionarios y otros recursos para ayudarte al aprendizaje de la lengua inglesa.
ENGLISH RESOURCES. Angles 365
This site presents online activities of English to graduate level (from preschool to 6th) and thematic or grammatical aspects.
 The activities extend and update periodically.
ENGLISH WEBS (Here you can find a collection of Websites to work the English language with your students
ENGLISH WEBS Interesting English webs
ESL Galaxy. LESSON PLANS, MATERIAL & ACTIVITIES
ESL Galaxy offers over 2368 free printable worksheets for ESL lesson plans and ESL Activities; and there are more additions every other day. The worksheets include: Board Games, Crosswords, Grammar worksheets, Vocabulary Worksheets, Theme or Topic lesson plans, Pronunciation, Survival English,Song and Video Activities, Word Search Puzzles, Festivals & Holiday Worksheets, ESL Conversation & Communicative Activities, Game and Writing Templates, Cloze & gap fill exercises, We also have ESL Games and ideas for ESL Classrooms, Powerpoint downloads, Matching & Collocations, Reading & Writing Exercises, Complete Lesson Plans.
 INTERACTIVE GAMES AND ACTIVITIES FOR ENGLISH LANGUAGE
Google for educators
From search games to presentations on how to use Docs & Spreadsheets with your students, here you can find real-world examples of innovative ways that teachers and librarians are using Google tools to help students learn.
INTERACTIVE ENGLISH 5-6 For teachers and students of English as a second language PRIMARY AND SECONDARY EDUCATION.  
MULTINGLES
Multimedia and English on the Internet. Technology in the classroom
MUSICAL INSTRUMENTS
Music is an art form in which the medium is sound organized in time. Common elements of music are pitch (which governs melody and harmony), rhythm (and its associated concepts tempo, meter, and articulation), dynamics, and the sonic qualities of timbre and texture.
Tools for educators – free worksheet makers, game creators, 100 .. 
Free worksheets generators, programs for teachers, game makers, worksheet wizard, and printables, creators for teachers with images!